Friday AM Forecast: Sunny for now, Rain returns on Sunday
Enjoy the sunshine while it lasts. Rain will be back before the weekend is over.
THE FORECAST
Today & Tonight: It is a freezing start for some this morning. Temperatures are in the low 30s, but we will have a sky full of sun this afternoon. Temperatures will warm up to near 60 degrees today. Tonight, temperatures will be down in the 30s, but well above freezing.
Up Next: Saturday looks partly sunny and warm with temperatures near 70°. The next chance for showers comes in on Sunday morning. Sunday will have showers becoming more widespread in the afternoon and evening. Everyone should expect to see rain. Between the showers afternoon temperatures will be in the 60s and overnight lows in the 50s. That same rainmaker will stall out near the Louisiana coast. A few showers will be around on Monday and Tuesday, but neither days will be washouts. Temperatures next week will trend closer to 70° in the afternoon. On Wednesday the shower activity starts to go up and Thursday looks like the rainiest day of the week with most areas picking up rain. That rainmaker will finally move out next Friday, and that should set us up for a dry weekend. With all those chances to see rain, the totals will start to stack up. Most areas will see 2-4 inches of rain through the week. Isolated higher amounts are possible. Stay connected as we monitor any risks for heavy rain next week. Click here to see the 7-day forecast.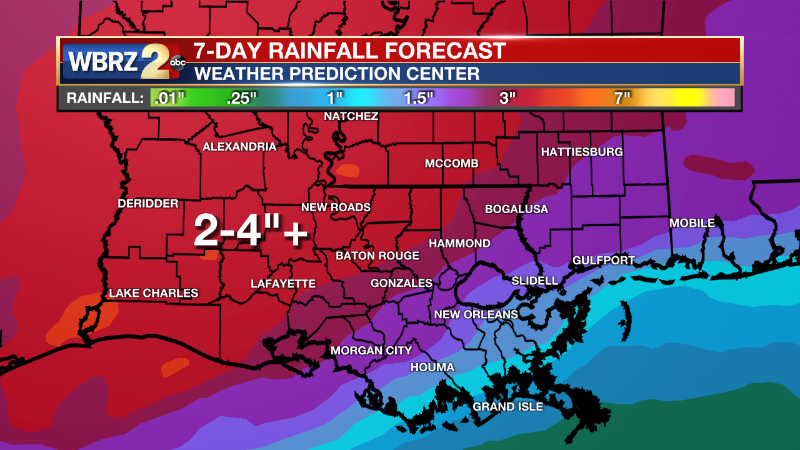 Hour-by-hour weather tracking is available for your location on the WBRZ WX App on your Apple or Android device. Follow WBRZ Weather on Facebook and Twitter for even more weather updates and unique weather insight from the whole team!
More News