Friday AM Forecast: expect rain, thunderstorms and falling temperatures
Storms are already moving in and cold air will be right behind it. Keep your WBRZ WX App close by.
Today & Tonight: Plan for a stormy and slow commute into work and school this morning. Along the leading edge of a squall line, some gusty wind and downpours will be possible. Low lying, typical trouble spots may hold water. Moderate rain will linger for several hours, possibly into the late afternoon before showers end. 1-3 inches of rain is expected with an isolated higher amount possible. Behind this front, much cooler air will move in. Temperatures will be falling into the 50s by noon, dress for the 40s & 50s today! Overnight temperatures will be in the 40s.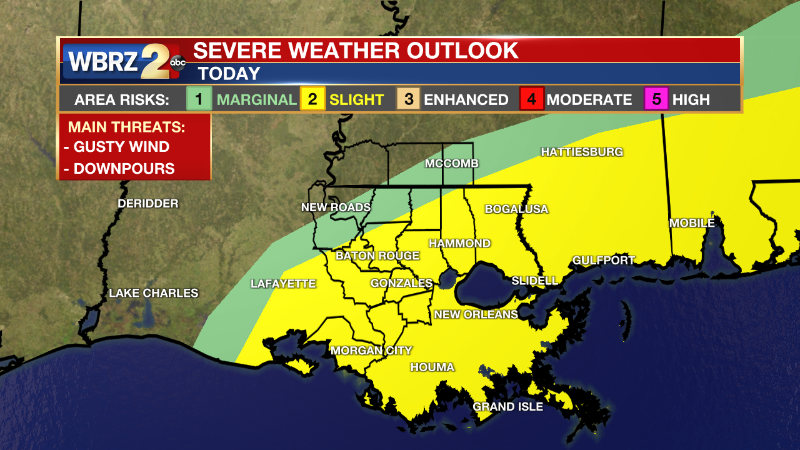 Up Next: Both weekend days will be chilly with highs in the mid 50s and lows in the low 40s. Saturday will have cloudy skies and a few sprinkles will be possible as a secondary cold front drifts into the area late. This front will pass on Sunday morning, reinforcing the cool air for the second half of the weekend, but finally swiping away a lot of the cloud cover. With clear skies, and lighter winds, the coldest temperatures of the extended forecast are expected Sunday night with low temperatures in the mid 30s on Monday morning. Areas north and east of Baton Rouge may see frost. Gradual warming is expected through next week with minimal rain chances. We will see the 80s again by the end of the week.
Wearin' of the Green: Saturday morning will be cloudy and chilly. With air temperatures in the low to mid 40s, blustery north winds of 10-15mph will cause feels-like temperatures or wind chills to be in the 30s through about midday. In addition to heavier outer layers, you will probably want cover for hands and ears as well. A bit of sunshine could peek through the clouds at times. Additionally, a couple of sprinkles will be possible, mainly from late morning through the evening. You can get ongoing updates and hour by hour weather on the WBRZ WX App.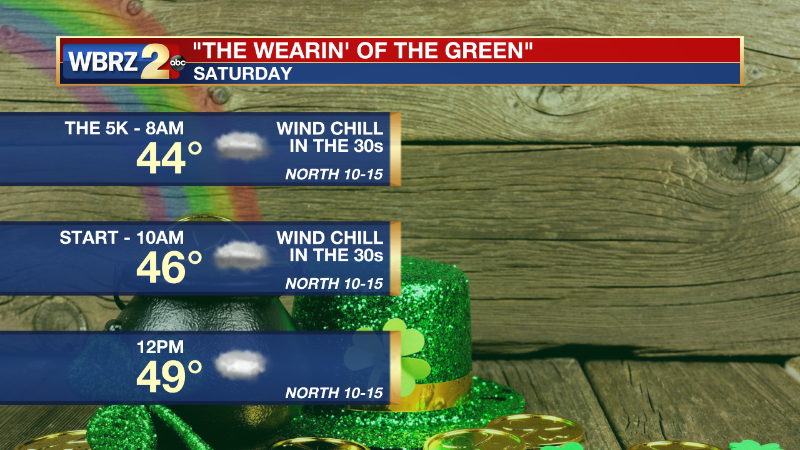 Get the latest 7-day forecast and real time weather updates HERE.
Reminder: With the threat for impactful weather— Thunderstorms and Cold Temperatures—please have access to alerts through Saturday. You can download or activate the WBRZ WX App on your Apple or Android device or turn on a NOAA Weather Radio for bulletins such as watches and urgent warnings. Of course, WBRZ, WBRZ+ and the Cable Weather Channel will have updates as active weather dictates.
More News